OPERATIONS & SUPPORT
On your premises or in the cloud – we have the rights solution for you
OPERATIONS & SUPPORT
On your premises or in the cloud – we have the rights solution for you
SAFE & FLEXIBLE OPERATION OF YOUR SYSTEMS
We have the right solutions! Whether in your datacenter, the cloud, or anywhere in between – our experts take care of the operation of your IT environment and ensure the stability of your systems. We guarantee that the operation of your infrastructure is within our hands only. Rely with all support requests on our competent helpdesk staff that also takes care of communication with third parties if needed. We are also happy to host your systems in our highly secure ISO-27001-certified and mirrored green IT high-efficiency datacenter. As a certified Microsoft Solutions Partner, we can also support you with the smooth operation of the cloud solutions Microsoft Azure & Microsoft 365.
Infrastructure
as a service
There are a number of ways in which you can host your systems. With us, you decide yourself how much of the responsibility you wish to retain, and to what extent we take care of the operation of your systems. We accompany you on your journey and rapidly and flexibly realize your requirements – for the hosting of only a few applications or your entire IT environment. Enjoy the latest hardware and standards, as well as highest-level security, or better support your customers and gain a competitive advantage with a cloud software.
When it comes to servers and data, security and flexibility are the number one matter. Our highly secure ISO 27001-certified, autarkic and mirrored datacenter in Karlsruhe fulfills all your requirements for secure and flexible hosting.
We emphasize that the operation of your infrastructure is fully in our own hands. Whether housing or hosting, on premises, or in the cloud: your severs are safe with us. You have access to your data at all times – in case of reduced downtime through our support.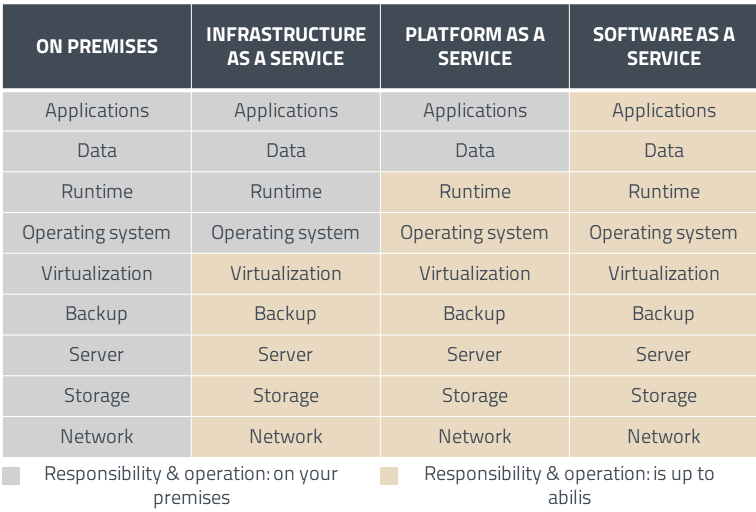 In your datacenter? In the cloud? Or anywhere in between?
Stay in full control
Especially sensitive information, such as personal data, must be managed on dedicated servers.
With our on-premises hosting, you stay fully in control of your servers in your own offices. Our experts come to you to consult you personally. Based on extensive analyses, we can optimally manage your systems and uncover potential for improvement. Through tailored adjustments, we can perfectly align your system landscape with your requirements, and create a harmonious system.
We take care of your infrastructure
With platform as a service (PaaS), you can forget about the setting up of a complex IT infrastructure, and simply use your resources in the cloud.

Benefit from transparent prices and top quality security in accordance with German data protection law. Thanks to our comprehensive security concept, you can always access your data. Save high infrastructure and software costs and use your storage space differently.
We take care of maintenance, updates, data backups, and more, making sure that all your systems are up to date at all times, and that you can fully concentrate on your projects.
With our platform as a service offer, long waiting times are a concern of the past. We quickly provide your with the required hardware and software, ensuring that you can access your data and collaborate from anywhere.
Comfortably use your software in the cloud
With our software as a service (SaaS) offer, we provide you with the entire application and required infrastructure. We take on the responsibility for all areas, such as data, storage, and applications.
With a cloud-based software, you secure a huge competitive advantage and better support your customers, as they will not have to align their infrastructure to a new software but can work flexibly in the cloud.
A cloud-based software is very attractive for your customers. It means they always enjoy the latest version of your software and do not need to operate it locally, which guarantees that everything is always up to date.
You are awaiting a new launch, move to a new location, or simply wish to work with your software on the go? We make your software ready for the cloud to get you started right away.
Gain the right amount of capacity and storage space with the cloud
You are affected by seasonal business or require more capacity upon short notice? With our infrastructure as a service (IaaS) model, you can adapt your resources to your demands. You benefit from highest-level scalability and flexibility.
Simply select your desired hardware components by well-known manufacturers – we take care of the rest, such as the management of your top modern infrastructure.
Through IaaS, you can slim down your IT infrastructure and thereby reduce costs. You save expensive investments for your own IT infrastructure, and gain the storage space necessary for the operation of your applications, as well as the full power of the cloud.
We happily consult you and help you find the right solution for you.
In your datacenter? In the cloud? Or anywhere in between?
We offer you a range of options for your SAP hosting. Whether SAP HANA, anyDB, Sybase, or SAP on Azure: We host your SAP solutions according to your wishes and needs.
Customized hosting solution
The product of the Across Systems GmbH features several characteristics that make it special. We offer our customer a customized hosting solution that is optimally tailored to their needs. Thanks to our secure hosting, the Across staff can fully concentrate on their core business and benefit from additional simplifications in their daily work.
OPERATION OF AZURE & MICROSOFT 365
Make your company fit for the future with the flexible cloud solutions by Microsoft. With Microsoft 365 and Azure, Microsoft is offering a secure and integrated SaaS platform. As a Microsoft Solutions Partner, we secure your infrastructure, systems, and data comprehensively and in line with your needs, and ensure a smooth operation.
Microsoft Azure
We make sure that you can use the resources of the Azure Cloud at any time and without problems, allowing you to make the most of your investment in the cloud.
Microsoft 365
We take care of the smooth operation of Microsoft 365 as the central platform for your digital and modern workplace in the cloud.
When working with hard- and software, you may encounter problems that you cannot fix yourself. Our helpdesk staff are by your side to support you quickly and competently. Because personal contact is important to us, you receive an allocated contact person that you can rely on. All service enquiries and error notifications are processed via a ticket system by our helpdesk. Complex requests that cannot be resolved via 1st level support, are responded to by our expert team for 2nd and 3rd level support. As single point of contact, we get in touch with third parties whenever necessary, and support you on your premises or remotely. We are also happy to support you with all Microsoft problems, and provide you with holistic Microsoft 365 support.
As central point of contact, our 1st level support staff directly fix smaller problems and function as the interface to our 2nd level support.
All problems and concerns that are more time consuming are covered by our 2nd-level-support experts.
Hardware problems that affect a product itself are attended by the experts of the third party, such as the staff of the manufacturer.
With our on-premises support, our experts monitor your systems directly at your facilities to identify problems and directly fix them competently. Rely on our support and optimal management through transparent service level agreements.
On-premises service
You receive a competent service by our staff on your premises.
Consulting and analysis
With our on premises support, you receive professional consulting, a systems analysis, and reliable support.
Tailoring of your system landscape
We make sure that your system landscape is optimally aligned with your requirements.
Management of your infrastucture
If needed, we take care of the management of your infrastructure (IaaS).
Maintenance, updates & data backups
Upon request, we cover maintenance, updates, and data backups (PaaS).
HIGH AVAILABILITY
We guarantee you up to 99,99% availability as defined in our service level agreements.
MAXIMUM FLEXIBILITY
Scale as you need to – up or down. We host according to your needs.
FULL TRANSPARENCY
No hidden costs. With our transparent SLAs, you always know what to expect.
Let's make
IT & MICROSOFT

 work!
We look forward to hearing from you.